KLUB KATZ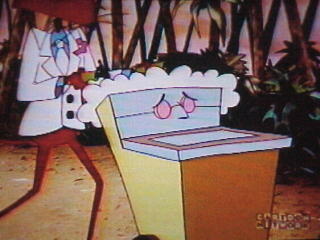 Featuring: Katz

Muriel and Eustace win a vacation, but Eustace claims he's "not getting out of my chair!". He's still in the chair, which is on the cruise ship next to Muriel (who's enjoying herself) and Courage (who is green with seasickness and tossing up overboard!). First follows a cute spoof of "Titanic", with the captain shouting about an iceberg which the cruise ship hits...then slides off. "False alarm!" the captain says, and that's shortly followed by "TIDAL WAVE!" Naturally, Eustace remains firmly seated with "Nope! Not getting out of this chair!", as the tidal wave strikes, tossing Eustace and the chair overboard along with Muriel and Courage.
The three eventually wash up on the shore of a lush tropical island, with Muriel enjoying the view and Eustace complaining about where his chair has gone to. They're approached by the owner of the island and their host...Katz (whom no one seems to remember from The Katz Motel!). Claiming that he's running a resort..."The very best...five stars!", Katz leads them to the club's spa where he promises "You'll feel...transformed!" As it was at The Katz Motel, Katz states that no dogs are allowed, so Eustace ties up Courage to a palm tree while he and Muriel follow Katz into the spa.
Needless to say, Muriel and Eustace's cries for help soon follow, and Courage frees himself from the leash...by unscrewing his head.
And then, from around the corner of the spa, Katz comes pushing a hand truck with Muriel...who has been "transformed" into a washing machine!


A moment later comes Eustace...who is now a wrecking ball!


Katz takes them to a colosseum-like arena where he announces "Eustace: the wrecking ball vs. Muriel: the washing machine!" Courage has to do something to stop this and save Muriel, so he enters the spa, and a few moments later, emerges as a helicopter! Courage saves Muriel by picking her up with a drop magnet and flying off, leaving Eustace to get revenge on Katz...who has been sitting in Eustace's chair the whole time!