THE CURSE OF SHIRLEY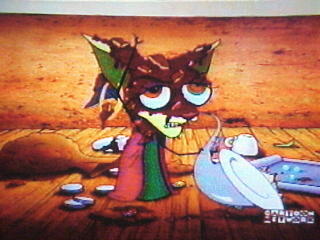 Featuring: Shirley The Medium
(with guest appearances by Bigfoot's Mother, Hothead, Eustace's Ma, and the Doctor)
Shirley the medium (whom no one seems to recognize from her previous appearance in the show), shows up on the farmhouse doorstep, asking for a handout. Muriel obliges with one of her pies and a serving tray of tea, while Courage gives up his gold tooth. Eustace, however, refuses...and slams the door in Shirley's face! Shirley hits Eustace back with a curse...which starts with a raincloud that follows Eustace everywhere, followed by mushrooms sprouting all over his body, and then a type of insanity in which he no longer recognizes anyone he knows!
Courage runs to Shirley for the cure, which involves a large mirror that Eustace must look at himself in and see who he really is. He must also find an act of kindness in his own heart, and when Courage breaks the mirror and looks at Eustace through the frame, Eustace sees himself as a little boy staring back (bald as ever!). Concerned that the little boy has no hat, Eustace places his own hat upon Courage's head, and the curse is broken.
Unitl later on, of course, when Eustace is back to normal and sees his hat on Courage...he grabs it off, and the curse starts all over again!